Description
Aquatherm is committed towards propagation of SOLAR energy-based systems as an overall commitment towards optimization of resources and conservation of the environment.
Our Projects
Our first solar powered pump was installed at Shiksha Niketan in the year 2014 for their Organic Farm at Bardhaman, West Bengal.
Project Images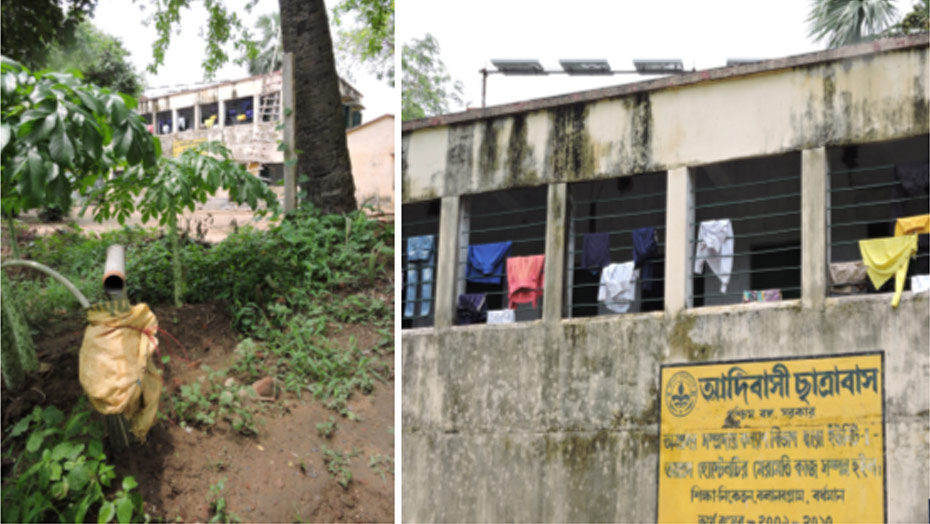 SPV based power generation system for telecom tower System installed at Lagos Nigeria attached with 6 sector BTS. Where Grid supply is not available.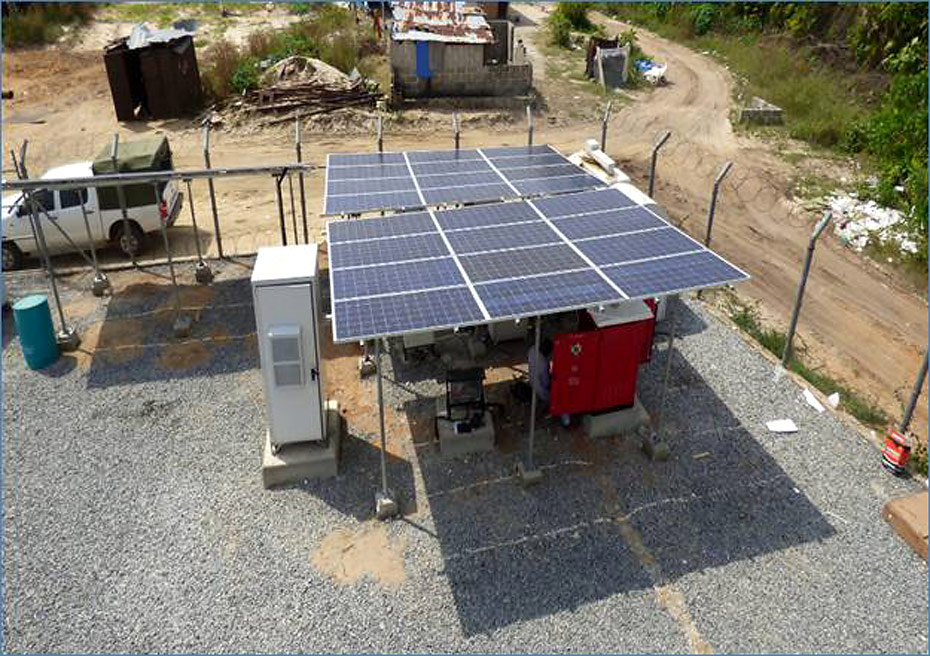 Power supply for telecom tower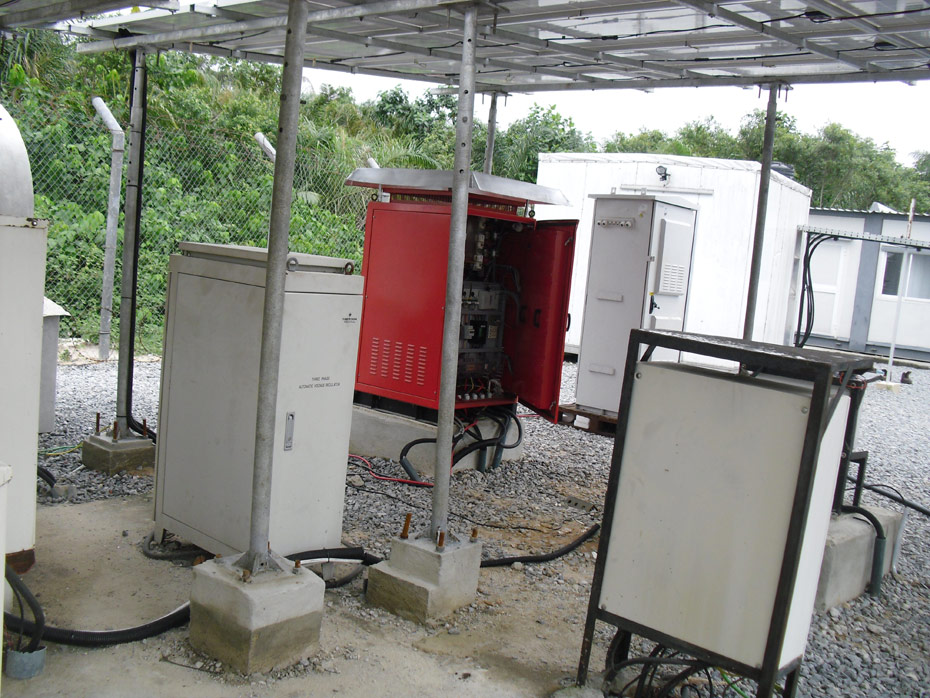 The first Solar Power operated Water Treatment Plant designed by Aquatherm as a part of Rural Area Health Development Programme in the year 2014.
Diagram of Solar Power operated Water Treatment Plant.
Function
Raw water from the bore well is collected in a 2000 Ltr. LLDPE Tank and then pumped through an Oxidation Chamber by a Filter Feed Pump. Chlorine dosing is done before the Oxidation Chamber. Then the water passes through an Iron Removal Filter for removal of Iron and suspended solids. Finally, the water passes through two Micron Filters and a UV System and gets stored in a 5000 Ltr. Treated Water Storage Tank. A Drinking Water Manifold comprising of four taps are connected from this for collection of drinking water.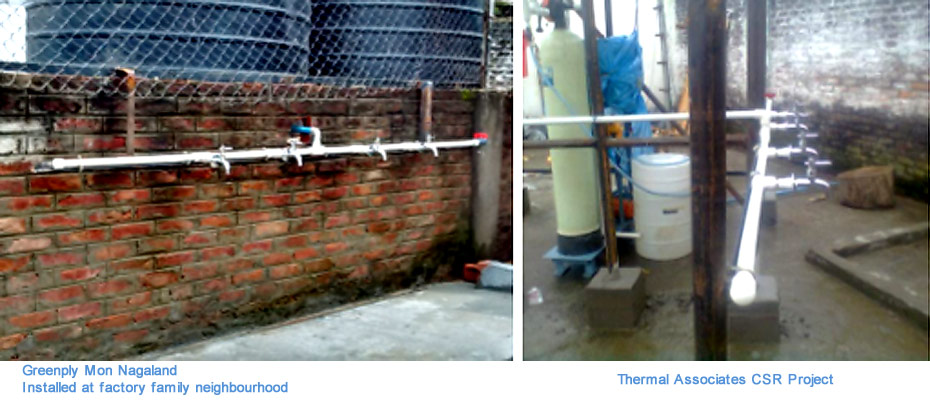 Our first Grid Solar Power Supply System introduced at Samrat Real Projects (P) Ltd. which has managed to reduce their electricity consumption by 20%. PV module is installed on top of their office cum factory.
In the year 2015 first Reverse Osmosis System of 200 LPH installed at factory premises.
Aquatherm installed PV Panels on top of Project India's factory shed for solar power supply as standalone system for illumination of common areas. This was undertaken in 2014-15. Outdoor Security Lighting was supported by dusk to dawn technology.
Thereafter, in 2016, Solar IRF has been installed at the factory to improve the drinking water for the workers.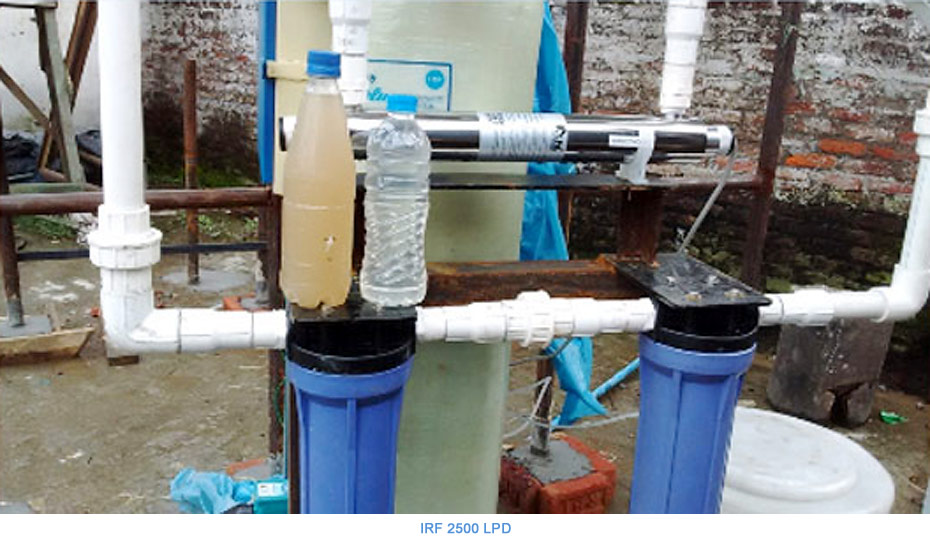 Greenply Mon District Nagaland installed solar WTP of 8000 LPD for their staff family neighbourhood. Raw water collected from river via clarifier and product water used for cooking and drinking purpose.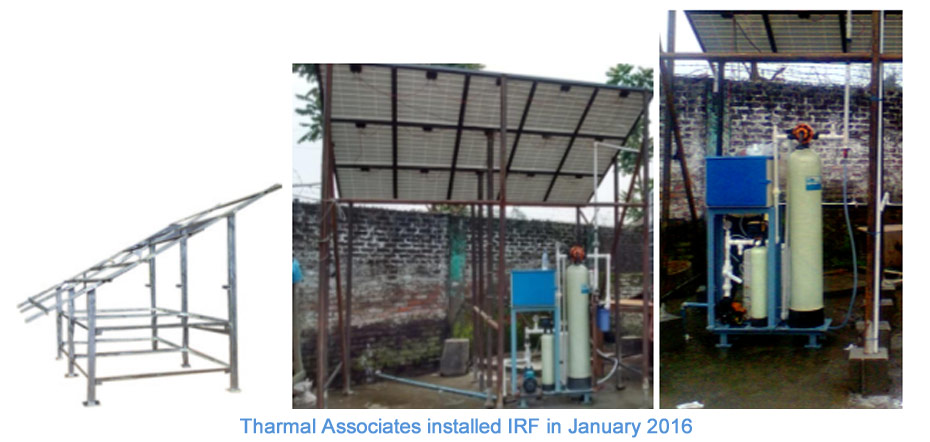 On Grid Solar Power
Utility power supply and having battery storage for backup.
Stand-alone PV systems
Stand-alone systems are not connected with utility power lines and these are self sufficient systems. These systems could either be used to charge the batteries that serve as an energy storage device or could work directly using the solar energy available in the daytimes.
These systems consist of the following:
Solar panels mounted on the roof or in open spaces. Photovoltaic modules produce direct current (DC) electrical power.
Batteries to store DC energy generated by the solar panels.
Charge controller to prevent overcharging the battery.
Inverter to convert electricity produced by the system from DC to AC power.
The following diagram shows PV system powering DC loads with battery bank. DC loads can also be connected directly to the battery bank. It is also possible to power the AC / DC load without battery, but in that case it would be confined only to daytime when solar radiation is sufficient to generate required electricity. Solar powered BTS in telecomm industry is common example.
Technology supports
MPPT Charge controller with SMPS, Data logger 3 Sce to 10 Min SMS by using GSM.
As efficient to run as stand alone system.
Upcoming project
Heat Exchanger
Stand alone system
We are in processes to develop appropriate heat exchanger for farmer to preserve their perishable produces. Prototype will be develop at Shiksha Niketan Kalanabagram with technical knowhow from Anderland system, Schlesische Berlin
Savings
Reduced Energy Bills
Reduction in the use of Gas and electricity
Reduced CO2 emissions
Green energy source
Self sufficient
Little maintenance
Modern design features
Government incentives